Peter Anderson, the brains behind Bible Money Matters recently released an E-book called Blueprint for How to Make Money with a Blog. Through hard work and dedication, Peter has reached a point where his blog generated enough income to replace his wife's day job. In this 30+ page e-book he outlines the steps he took to achieve success. It is definitely a blueprint! This is not an e-book filled with wide margins, screen shots and only high level ideas. It's full of detail and specific action steps that can be implemented by anyone serious about generating income from their blog.
I appreciate the fact that Peter zones in on what has worked for him. He doesn't claim to be a subject matter expert or Internet marketer. He doesn't overwhelm the readers with countless options, instead he focuses on his own experience. The details covered cuts out much of the learning curve for the novice blogger. The blueprint is an easy read. I finished it in one sitting, however it is something I will refer back to often because of the amount of detail. For example, there is a section that lists some suggested WordPress plugins to increase functionality. There were a few that I'll be looking into during my next site upgrade!
Who Should Read Blueprint for How to Make Money With a Blog
Anyone thinking of starting a blog that would like to generate income (the book covers hosting, domain names and setup so it is well worth reading before starting a blog)
Novice & Intermediate bloggers that would like some guidance / direction
Bloggers who may be burnt out or have lost their motivation
Bloggers looking for ideas on how to monetize their blog
Who Should Not Read the Blueprint
Anyone looking to get rich quick. Peter took 2 years to reach the level he is at. This doesn't happen overnight.
Anyone looking for easy money ~ Be prepared to treat your blog like a business. You're going to have to put in some hours, hard work and dedication
The Blueprint is targeting novice / intermediate level bloggers, those who have already successfully monetized their blogs have probably implemented the steps outlined or forged another path that worked for them.
Summary
Blueprint for How to Make Money with a Blog is an excellent step by step guide for anyone serious about starting and monetizing a blog. The steps to customize the WordPress options and ideas for generating content make it worth the investment. Anyone following these steps should see results overtime and the e-book will more than pay for itself.
While I chose to focus on the ebook, the actual package also includes: an MP3 version, a daily checklist, a starter checklist, and advice from successful bloggers (limited time offer). For me, that was icing on the cake! Thanks Peter for supplying a great resource to the blogging community!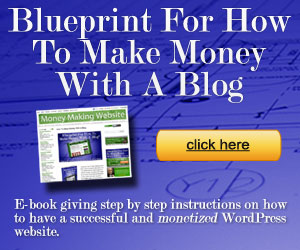 *** BONUS for Personal Finance Journey Newsletter Subscribers ***
I've received permission to share an excerpt of the Blueprint with PFJ newsletter subscribers. I'll be sharing from the section Making Money from My Blog – More than Just Adsense. I'm sending the next newsletter out on Friday March 5th so you'll need to subscribe before then.
The links to the e-book are affiliate links, this means I recieve a commission on the sale. However, I stand behind this product with my full endorsement. It is not my intention to ever recommend a product that I don't beleive will be of service to the readers…regardless of compensation.